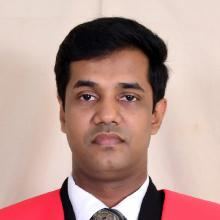 Biography
Prof. Suneth Agampodi, Sri Lanka
Prof. Suneth Agampodi is a Public health Specialist and a Professor in Community Medicine in Faculty of Medicine, Rajarata University of Sri Lanka.
He graduated from University of Peradeniya as a medical doctor in 2001. He started working as a primary healthcare physician and in 2005 completed his masters in Community Medicine, from Post Graduate Institute of Medicine, University of Colombo, Sri Lanka.
In 2011, Prof.Agampodi completed his doctorate in Community medicine and in the same year he completed a Masters in Public Health (Epidemiology and Biosecurity) from Massey University with distinction. In 2012 he was appointed as the Head of the department in Community Medicine and in 2014 he became the youngest professor in Community Medicine in Sri Lanka. Prof.Agampodi is a member of International Leptospirosis Association, International Society for Infectious Diseases, International Society for Urban Health, Sri Lanka Medical association, Infectious Disease Society of Sri Lanka and Sri Lanka College of Community Physicians.
In 2012, he was awarded Fellow of Royal Society for Public Health.
Prof.Agampodi had a wide range of public health research interests. His main work is on neglected tropical diseases. His work on leptospirosis has been published in Lancet Infectious Diseases, Clinical Infectious Diseases, American Journal of Tropical Medicine and Hygiene and several other high ranked international journals. He is a regular reviewer of leading public health and tropical medicine journals. He has more than 60 publications in peer reviewed journals and more than 100 presentations in scientific forums. He received several research awards and travel grants for his research work. In 2010 he received a major grant to investigate maternal morbidity and the productivity cost in Sri Lanka, from the Maternal Health Task Force of EngenderHealth. In 2011 he worked as a visiting assistant professor in University of California, San Diego.
At present he is working as a honorary consultant to establish the first community based Ayurvedic public health programme in Sri Lanka and a member of the advisory committee to the minister of health in Sri Lanka.
He is the principal investigator and the project director of a major five year NIH funded project (2015-2020) on disease burden assessment of Leptospirosis in Sri Lanka and also the project director of Implementation Research training programme for healthcare professionals funded by WHO TDR (2015).
Department of Community Medicine, Faculty of Medicine and Allied Sciences, Rajarata University of Sri Lanka