Awang Bulgiba Awang Mahmud
Secretary-General, Academy of Sciences Malaysia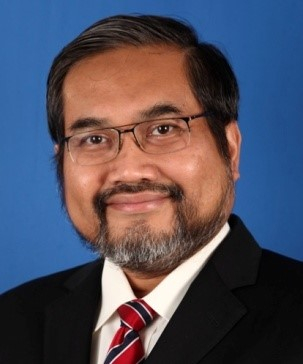 Biography
The first Malaysian doctor to gain a PhD in Health Informatics, Prof Dr Awang Bulgiba Awang Mahmud is also Secretary-General for the Academy of Sciences Malaysia (Malaysia's foremost science think tank), Council Member for the Academy of Medicine Malaysia and President of APACPH-KL, an NGO dedicated to public health. He is also the Project Director for the National Policy on Science, Technology and Innovation 2021-2030 which was commissioned by MESTECC, a member of the Ministry of Education Research Funds Steering Committee and a member of the Malaysian Code of Responsible Conduct in Research Committee. Prof Awang Bulgiba is currently the Chair of the National Specialist Register Specialty Sub-Committee (Public Health). He was formerly Chair of the Council of DVCs (Academic and International), Chair of the Council of DVCs (Research and Innovation) and Vice-President of the College of Public Health Medicine, Malaysia.
Prof Awang Bulgiba has had a remarkable run as DVC (Academic and International) and DVC (Research and Innovation) in the University of Malaya (UM), leading the crafting of the UM Strategic Plans 2011-15 and 2016-2020 which catapulted UM to its current position of 70 in the QS World University Rankings. Prof Awang Bulgiba has published more than 100 Web of Science-indexed journal articles and is the lead author for "Strengthening Academic Career Pathways and Leadership Development", a book used for the University Transformation Programme in Malaysia.
Prof Awang Bulgiba was awarded the Ma'al Hijrah Award for Outstanding Achievements in Research and Development in 2013 by the Sarawak State Government and the University of Malaya Eminent Scholar Award in 2018 (UM's highest award). He was also awarded the Asia-Pacific Academic Consortium for Public Health (APACPH) Excellence in Leadership Medallion in 2018, joining a select list of distinguished awardees which include US Senator Edward Kennedy (1990), US Lt Governor Benjamin Cayetano (1991) and Thailand House of Representatives Speaker Marut Bunang (1993).