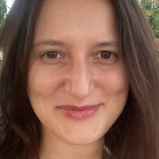 Biography
Dr. Tiryakioğlu works at Maltepe Health Directorate. Since the beginning of the COVID-19 pandemic, she is coordinating of contact tracing teams and consultation of COVID-19 patients and follow up in Maltepe is a district of Istanbul with population of more than half million residents. Dr. Tiryakioğlu also takes place organization and management of vaccination programs since 2017 to current in Maltepe.
Dr. Tiryakioğlu graduated from Marmara University, School of Medicine in 2015 and completed her master's degree in Public Health at the same university in 2020. She continues her doctoral education in Public Health at Istanbul University, Institute of Health Sciences.
Turkey is a country that hosts close to 5 million refugees, and there were no documents regarding the vaccination status of children. Dr. Tiryakioğlu has taken place as a team leader for vaccination teams at Mop-up vaccination programs for Syrian refugees and school. Also, during the COVID-19 pandemic process, a large number of health personnel who have no training and experience in this field, were assigned to the contact tracing studies. Dr. Tiryakioğlu demonstrated important leadership skills in the training, job orientation and team building of these members, whose numbers and places of assignment frequently change.
Despite working at a busy pace at work, Dr. Tiryakioğlu manages to communicate closely and work in collaboration with both professional organizations and non-governmental organizations. She is acting as the secretary general of the Public Mental Health Working Group of the Turkish Association of Public Health Specialists. Dr. Tiryakioğlu is taking role in the activities for development of better mental health services in cooperation with NGOs, Academia and Ministry of Health. As a part of psychosocial support program for the health care workers in Maltepe Health Directorate who are very tired from the pandemic, she has been organizing "healing games sessions" for the health care workers in collaboration with an NGO working in the field of community mental health.