Carlos Del Rio
Foreign Secretary, National Academy of Medicine US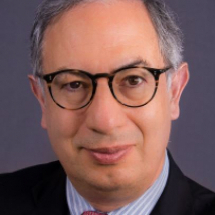 Biography
Carlos del Rio, M.D., is Distinguished Professor of Medicine at Emory University School of Medicine, and he currently serves as Foreign Secretary for the National Academy of Medicine.  He is also a professor of global health and epidemiology at the Rollins School of Emory University, Executive Associate Dean of Emory University School of Medicine at Grady Health System, and co-director of the Emory Center for AIDS Research.
His research interests include the early diagnosis of HIV, linkage to and retention in HIV care, and prevention of HIV infection. He has long worked in hospitals and clinics with hard-to-reach populations including substance abuse users to improve outcomes of those infected with HIV and to prevent infection among those at risk. In addition, Dr. del Rio's interests include the optimization of HIV management in resource-constrained countries and the translation of research findings into practice and policy.  Dr. del Rio is a native of Mexico, where he attended medical school at Universidad La Salle, graduating in 1983.
Carlos del Rio is a member of the IAP COVID-19 Expert Group, a Group charged with responding to inquiries routed through academies related to the ongoing COVID-19 pandemic across a broad range of health, social, environmental and other direct and indirect consequences.