Kurt Lambeck
Former President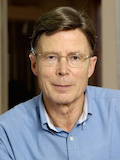 Biography
Kurt Lambeck has been a distinguished Professor of Geophysics at the Australian National University since 1977, including ten years as Director of the Research School of Earth Sciences.  His work is on "glacial rebound", which studies how the sea responds to changing levels, its impact on civilisations and the future.  He has been a member of, and chaired a number of, high-level Australian government committees.
Internationally he is active not only in his own research but also in developing linkages between Australia and other countries in all areas of science and technology, and was President of the Federation of Asian Scientific Academies and Societies 2010-2012.   
Professor Lambeck has been widely recognised for his contributions to science. This includes election to the Royal Society of the UK, the French Academy of Science, the US National Academy of Sciences and the national academies of The Netherlands and Norway. It also includes international prizes such as the Tage Erlander Prize from the Swedish Research Council, the Prix George Lemaître from the Université catholique de Louvain, the Eminent Scientist Award from the Japan Society for the Promotion of Science, and the Balzan Prize for Solid Earth Sciences.  In 2013 he was awarded the Legion of Honour by the French Government.