event
IAP Conference on Science Advice and General Assembly 2016
MAPBOX
On 25 September 2015, the United Nations launched a set of 17 Sustainable Development Goals with targets for achievement by 2030.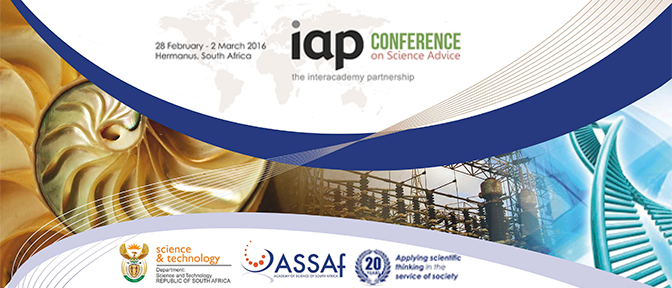 From ending hunger and ensuring food security, to combating climate change and ensuring sustainable use of the oceans, science is at the heart of many of these goals.
But how do governments, United Nations organizations and other actors integrate the best science into their implementation plans to achieve one or other of the SDGs?
The IAP Conference, to be held in Hermanus, South Africa and hosted by the Academy of Science of South Africa (ASSAf) on 28 February to 1 March 2016, will investigate these issues by focusing on the topic of 'Science Advice'.
By bringing together nations' top talents, academies of science, medicine and engineering have long played the role of synthesizing the latest scientific results and providing credible, independent, peer-reviewed advice to policy-makers. But academies are not the only source of advice to governments – senior science advisers, committees of experts and other mechanisms are widely used in different countries.
Such mechanisms will be examined during the IAP Conference by a range of experts involved in providing science advice through a series of interactive sessions on the 'Science advice ecosystem', 'Country readiness for science advice', and the 'Interplay between science advice, politics and the media'. Two additional sessions will have a more specific focus, namely 'Science advice in times of disasters/emergencies', and 'Science advice in the international arena with a special focus on synthetic biology'.
The IAP Conference, which will be opened by the South African Minister of Science and Technology, the Hon. Naledi Pandor, is receiving financial support from the South African Department of Science and Technology, and also marks the 20th anniversary of the establishment of ASSAf.
For a report of the conference, see HERE.
Agenda
February 28, 2016
14:30 – 16:30
Registration
17:00 – 19:00
Opening Ceremony
17:00 – 17:30
Cocktail Reception
17:30 – 18:00

Welcome

18:00 – 18:15
Delegates invited to take their seats (Hors d'oeuvre)
18:15 – 18:30

Science International

18:30 – 19:00

Keynote Address by the Minister of Science & Technology

Address by the Minister of Science & Technology

19:00
Dinner
February 29, 2016
08:30 – 09:00

Welcome by Conference Committee Co-Chairs

09:15 – 09:55

Keynote Speaker

Science Advice to Governments – Multiple Modalities, Consistent Principles

MODERATOR: Prof. Volker ter Meulen, IAP Co-Chair

09:55 – 10:10

EASAC and the Science Advisory Mechanism (SAM) in Europe

10:10 – 10:30
Discussion
10:30 – 11:00
Coffee Break
11:00 – 12:30

Panel Discussion

Topic I: Science Advice Ecosystem

MODERATOR: Prof. Jimmy Volmink

12:30 – 14:00
Lunch
14:00 – 15:30

Panel Discussion

Topic II: Science Advice in Times of Disasters/Emergencies

MODERATOR: Sir Peter Gluckman, International Network on Governmental Science Advice

15:30 – 16:00
Coffee Break
16:00 – 17:30

Panel Discussion

Topic III: Science Advice in the International Arena with a Special Focus on Synthetic Biology

 MODERATOR: Prof. John Hildebrand, US NAS Foreign Secretary Regents Professor, University of Arizona

17:30 – 18:00

Wrap-up Session

MODERATOR: Prof. Volker ter Meulen, IAP Co-Chair
MODERATOR: Prof. Lai-Meng Looi, IAMP Co-Chair

18:00

Launch of the IAP Report on "Women for Science" & Formal Conference Dinner

Click to read the Press Release.

March 1, 2016
09:00 – 10:45

Panel Discussion

Topic IV: Country Readiness for Science Advice

10:45 – 11:15
Coffee Break
11:15 – 11:55

Keynote Speaker

The Role of Science Advice in the Regional and Global Environmental Assessment

MODERATOR: Prof. Mohamed Hassan, IAP Co-Chair

11:55 – 12:30
Discussion
12:30 – 14:00
Lunch
14:00 – 15:30

Panel Discussion

Topic V: Interplay between Science Advice, Politics and the Media

MODERATOR: Prof. Robbert Dijkgraaf, IAC Co-Chair

15:30 – 16:00
Coffee Break
16:00 – 17:30

Plenary Discussion, Conclusions, Recommendations

17:30

Adjourn

19:00 – 23:00

Dinner

March 2, 2016
 
08:00 – 18:00

IAP General Assembly

(Closed Meeting for IAP/IAMP Academy Representatives & Invited Observers)
Side Events
February 26, 2016 – February 27, 2016

Science Advice Workshop for African Scientists (participation by application only)

Science Advice Workshop for African Scientists - geared towards scientists living and working in Africa to enhance capacities in providing science advice to governments. The call for applications is open until 30 October 2015. Travel, participation fees and hospitality costs (for African participants) are covered for the duration of the workshop and the IAP Conference and GA.

February 28, 2016

Smart Villages (participation by application only)

Smart Villages (Off- grid energy for rural communities in the developing world, from both a technical as well a policy perspective).Half-day programme of presentations involving some of the principal academies and networks and individuals that have been involved in the project.. Smart Villages will sponsor one dinner and provide some travel support for selected Academy representatives.

February 29, 2016

Launch of IAP Report

Launch of IAP Report of the results of the survey 'Women for Science: Inclusion and Participation in Academies of Science', organized by ASSAf, IANAS, NASAC, OWSD.

March 3, 2016

Panel discussion ' Youth Perspectives on Science Advice to Government' (Open to the Public) (Download Programme)

Hosted by the South African Young Academy of Science (SAYAS) and the Academy of Science of South Africa (ASSAf) at the University of the Western Cape (UWC)
IAP Conference 2016 Roster
CONTACT PERSON
Joanna C.R. Lacey
iap@twas.org
+39 040 2240 680