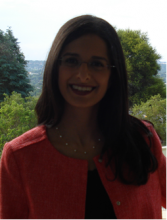 Biography
Fatima Laher, S. Africa
Dr Fatima Laher is a medical doctor and diplomate of the College of Medicine (South Africa). Having started her career treating people with HIV and researching HIV treatment, she now leads human clinical research about preventative vaccine approaches for HIV.
Dr Laher currently leads the HIV Vaccines Trials Network (HVTN) Clinical Research Site at the Perinatal HIV Research Unit (PHRU) in Soweto, South Africa.
She is mentored by Professor Glenda Gray, the President of the South African Medical Research Council and one of the top 100 most influential people in the world in 2017 according to Time Magazine.
At the HVTN, Dr Laher co-chairs HVTN 100, HVTN 702, HVTN 120 and HVTN 126 - all trials which seek to deepen our understanding about heterologous prime-boost HIV vaccination strategies for the region in the world most affected by the epidemic, sub-Saharan Africa. If successful, these trials could form part of the effort to license the world's first HIV vaccine. Dr Laher also serves as co-chair of the Protocol Review Committee and the Training and Education Committee for the HVTN.
She frequently publishes in and reviews for scientific journals, presents at conferences and has co-authored a textbook chapter for the International Association for the Study of Pain (IASP). Her work on the safety of efavirenz in pregnancy was cited by the World Health Organisation (WHO) document on the topic.
She is a joint staff member at her alma mater, the University of the Witwatersrand Medical School.