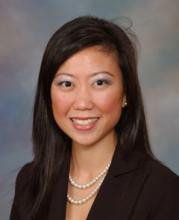 Biography
Dr.Carolyn Lam is an Associate Professor of Medicine of the Yong Loo Lin School of Medicine, Singapore; a Consultant Cardiologist at the National University Heart Centre, Singapore; and the Director of the first Womenís Heart Health Clinic in Singapore. She graduated from the Faculty of Medicine, National University of Singapore, did her Cardiology Fellowship at the Cardiac Department of NUH, and pursued her Research Fellowship at the Cardiorenal Laboratory, Heart Failure Fellowship at the Division of Cardiovascular Diseases, and Advanced Cardiology and Master of Biomedical Sciences at Mayo Clinic, Rochester MN.
She returned to Singapore in 2010 on the National Medical Research Councilís Clinician Scientist Award to pursue heart failure research as part of the team at the Cardiovascular Research Institute of the National University Heart Centre Singapore. She concurrently holds appointments as Assistant Professor of Medicine, College of Medicine, Mayo Clinic, and Adjunct Assistant Professor, Section of Preventive Medicine & Epidemiology, Boston University School of Medicine.
Dr Lam is passionate about womenís heart health issues. Her academic areas of interest include heart failure, echocardiography, biomarkers, hemodynamics and early clinical trials. She is the principal investigator of an ongoing nation-wide heart failure study in Singapore the Singapore Heart Failure Outcomes and Phenotypes [SHOP] study) and a multinational Asian study of patients with heart failure across 10 Asian countries Asian Sudden Cardiac Death in Heart Failure [ASIAN-HF] study). She is the editor-in-chief of the ASEAN Heart Journal.