Valeriya Lyssenko
Contacts
valeriya.lyssenko@med.lu.se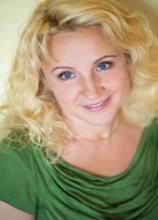 Biography
Dr. Valeriya Lyssenko, received her medical degree at the National Medical Institute in Kiev, where she also defended her thesis.
In 2001 she joined Prof. Leif Groops research group in Malmˆ, Sweden, first as a Lund University stipendiat and then as a postdoctoral fellow and associate researcher.
During 2006-2008 she joined Prof. David Altshuler group Population Genetics at the Broad Institute, Boston as Postdoctoral Visiting Researcher.
In January 2010 she became Associate Professor in Endocrinology at Lund University.
Valeriyaís main research interest is to describe genetic and clinical risk factors associated with increased risk of type 2 diabetes.
One of her key projects evaluates the role of genetic variants in the prediction of type 2 diabetes using prospective cohorts.
Together with the Broad Institute (MIT/Harvard), Novartis and Lund University, she also worked on a Diabetes Genetic Initiative (DGI), a whole genome association study (GWAS) for type 2 diabetes.
Currently, she is also leading consortia efforts ENGAGE to merge data from available prospective studies to study genetic prediction of type 2 diabetes and MAGIC to study genetic determinants of insulin secretion.
Presently, a major focus of her research has been to identify genetic variants protecting from diabetic complications by launching a Nationwide study in Sweden called PROLONG (PROtective genes in diabetes complications and LONGevity).
In this study she has recruited type 1 diabetic patients with disease duration of more than 30 years who did not develop diabetic complications.
On top of all this she has initiated a new study DOLCE (Diagnostic Optimization and Treatment of diabetes and its complications in the Chernihiv region) aiming at dissecting the influence of periods of famine on the risk of diabetes and development of or freedom from development of diabetic complications.