Mobolaji Oladoyin Odubanjo
Executive Secretary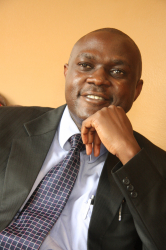 Biography
Dr Oladoyin Odubanjo, a public health physician, is the Executive Secretary of the Nigerian Academy of Science. He is a past Chairman of the Association of Public Health Physicians of Nigeria (Lagos Chapter). Dr Odubanjo is an Adviser to the Centre for Palliative Care Nigeria (CPCN) and the Chairman of the African chapter of the International Network for Government Science Advice (INGSA).
Before working for the Nigerian Academy of Science, Dr Odubanjo worked as a physician for the Nigerian government. He worked at various public healthcare facilities in rural and urban areas and was in charge of a general hospital with additional supervision of two primary health care facilities. His experience also includes voluntary services for non-profit organisations in Nigeria and the United Kingdom.
Dr Odubanjo was hired as part of a team that has been instrumental to a successful transition of the Nigerian Academy of Science from a largely honorific organization to one that provides evidence-informed advice to government and other stakeholders. In the last fourteen years, he has collaborated with various African academies and the Network of African Science Academies (NASAC) on diverse projects aimed at informing policy.