Moaz Abdelwadoud
Assistant Professor of Global Health
Contacts
drmoaz@windowslive.com
moaz.abdelwadoud@nyu.edu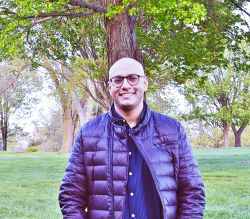 Biography
Dr. Moaz Abdelwadoud is an Assistant Professor of Global Health with the Global and Environmental Public Health Programs at New York University School of Global Public Health, The United States. Dr. Abdelwadoud earned his medical degree from Ain Shams University, Egypt in 2005. In 2011 he earned his first Master of Public Health (MPH) degree in Preventive Community Medicine from Cairo University, Egypt; and subsequently earned in 2013 his second MPH in International Health Development from Vrije Universiteit Amsterdam and the Royal Tropical Institute, The Netherlands. In 2017, Dr. Abdelwadoud completed his Doctor of Public Health degree in Health Management and Policy in addition to two graduate certificates in Global Health, and College Teaching and Learning from the University of Kentucky.
Dr. Abdelwadoud possesses more than fifteen years of international clinical and public health experiences in the Middle East, Sub-Saharan Africa, Europe, and the United States. Dr. Abdelwadoud's teaching and research revolve around health systems and services research, and social determinants of health. In his experiences, he employed mixed methods in addressing access to health services obstacles for disadvantaged and vulnerable population groups worldwide.
After his doctorate degree, Dr. Abdelwadoud served as adjunct faculty at University of Kentucky College of Public Health; teaching and advising undergraduate and MPH students in the areas of global health, public health foundations, fundamentals of health behavior, and health management and policy. Prior to joining NYU School of Global Public Health, Dr. Abdelwadoud completed a postdoctoral research fellowship at the University of Maryland Department of Pharmaceutical Health Services Research. As part of the University of Maryland PATIENTS Program, he conducted community engagement and patient centered outcomes research funded by the U.S. Food and Drug Administration, The U.S. Department of Defense, The Patient-Centered Outcomes Research Institute, and other foundations and private corporations.