Péter László Kollár
Secretary-General, Hungarian Academy of Sciences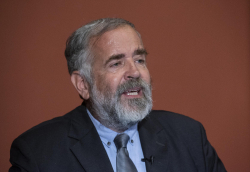 Biography
László Péter Kollár civil engineer, academician, Secretary General of the Hungarian Academy of Sciences, and professor of the Budapest University of Technology and Economics, Faculty of Civil Engineering, Department of Structural Engineering.
He received his diploma from the Budapest University of Technology and Economics in Civil Engineering in 1982, and joined the faculty of his alma mater where he obtained his Habilitation in 1997 and where he was Vice President from 2015 to 2017. He has also served as Visiting Professor in the Department of Aeronautics and Astronautics and in the Department of Civil Engineering at Stanford University.
He earned his CSs in 1986 and his DSc in 1995 at the Hungarian Academy of Sciences (HAS), became a corresponding member in 2001 and was elected a full member of the HAS in 2007. Member of the Academia Europaea since 2012. In 2017 he became president of the Section of Engineering Sciences of HAS. In 2008 he won the Ipolyi Arnold Award for his contribution to scientific research management and was awarded the Széchenyi Prize in 2015 for his scientific career.
From 2002 to 2008 he served as president of the Committee of Solid Mechanics of the HAS. He is a member of the editorial board of the International Journal of Reinforced Plastics and Composites, the International Journal of Composite Materials and the Journal of Computational and Applied Mechanics. Starting from 2008 he was Vice President, then from 2010 to 2012 President of the "European Society for Composite Materials".
He served as President of the Hungarian Scientific Research Fund (OTKA) for five years until 2014.
His main areas of research are composites, earthquake engineering and structures.