Nadira Karunaweera
President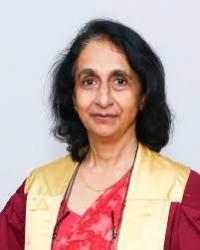 Biography
Nadira Karunaweera is the Chair and Senior Professor of Parasitology at the Faculty of Medicine, University of Colombo, Sri Lanka and an honorary Visiting Fellow at the School of Public Health, Harvard University, USA. Trained as a Medical Parasitologist she has extensive teaching, training and research experience in tropical diseases, with special emphases on vector-borne diseases.
She is an elected Fellow of the National Academy of Sciences of Sri Lanka (NASSL), elected Fellow of The World Academy of Sciences (TWAS) for the advancement of science in developing countries, the first Sri Lankan elected as an honorary member of the American Academy of Arts and Sciences and the first Sri Lankan elected as a Distinguished International Fellow of the American Society of Tropical Medicine and Hygiene.
She is the Chair of the Research Arm of the National Science Foundation, Sri Lanka and remains as a board member of several policy making bodies that includes the Inter-Academy Partnership of The World Academy of Sciences, Governance Council of the Genomic Epidemiology of Malaria network, University of Oxford, United Kingdom and has served as a Consultant/advisor to the Strategic Research Steering Committee on Pathogenesis and Functional Genomics, World Health Organization, Geneva for over a decade.
She has been a recipient of several competitive research grant awards, both international and local. Internationally recognized awards for her scientific accomplishments include Tropical Medicine Centre Award U01AI136033 (2017-2022); R01AI099602 (2012-2017); R03 TW007966 (2007-2012) NIAID, NIH, USA; Global Challenge Award for malaria (2006-2009) and Research Development Award, Wellcome Trust, UK (1997-2000).
Fellowship awards she has received include Harvard University's Senior Research Scholar Award, Radcliffe Institute for Advanced Study (2005-2006); Fulbright Advanced Research and Lecturing Award (2005); Fellowship Award, Commission of the European Communities, Belgium (1994) and Fellowship award, T.D.R., World Health Organization, Geneva, Switzerland (1993). Local awards bestowed on her include Annual Presidential Awards for excellence in research (awarded on successive years from 2000 onwards), National Apex Award for Professional Excellence, Most Inspirational Woman of the Year Award (2021) and Zonta Woman of the Year Award (2009).
She spearheaded the establishment of the Sri Lanka National Chapter of Organization for Women in Science for the Developing World (OWSD), is the Founder President of that organization (since 2018) and is the current President of the Sri Lanka College of Microbiologists (2020-2021) and Vice President, NASSL.
She is considered as an authority in malaria research that encompasses wide ranging fields including pathogenesis, epidemiology, immunity and genetic diversity and has been instrumental in generating novel information, to aid the process of policy making during malaria control, elimination and post-elimination phases in Sri Lanka. She continues to function as a team leader in multidisciplinary research studies in human parasitic infections and is responsible for pioneering work in the field of leishmaniasis, a newly established disease in Sri Lanka, with setting up of the first leishmaniasis diagnostic, training and research laboratory in the country. The studies led by her and the findings of her team continue to influence national health policy that includes recognition of leishmaniasis as a public health problem in Sri Lanka, leading to its inclusion as a 'notifiable disease' in the health sector (first step towards its control through use of systematic methods), recognition of new treatment options for leishmaniasis to improve efficacy and patient safety and recognition of insecticide resistance in sand flies as a challenge for the control program.
She has provided academic and research supervision and guidance to a large number of undergraduate and post-graduate students that include MPhil and PhD-level scientists and has been in the University system for over 30 years (University of Colombo, Sri Lanka; University of Edinburgh, UK; Harvard University, USA) with extensive academic, research and administrative experiences.
As an expert in tropical diseases she continues to serve on many national and international scientific review boards, consultative committees and editorial boards sharing her expertise in an honorary capacity. She has organized national and international conferences, workshops and capacity building programs and led the team that established the first-ever 'Research Promotion and Facilitation Centre' at the Faculty of Medicine, University of Colombo in 2013 that continues to provide training and promotes capacity building of young local scientists. She has published widely with a Google Scholar h-index of 32; i-10 index of 81 and has authored over 100 peer-reviewed journal articles with over 4000 citations, large number of abstracts of presentations made at conferences, several book chapters and shares the ownership of 2 patents.