Stephanie Burton
Vice- President, Academy of Science of South Africa (ASSAf)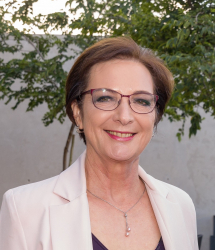 Biography
Professor Stephanie Burton is Professor in Biochemistry, in the Faculty of Natural and Agricultural Sciences, and a professor at Future Africa at the University of Pretoria (UP). She is the former Vice-Principal for Research and Postgraduate Education at UP, having served in that role from 2011 to 2020.
Professor Burton is the President and a Fellow of the Royal Society of South Africa (RSSA), Vice-President of the Academy of Science of South Africa (ASSAf), a Research Fellow for Universities South Africa (USAf), a member of the Governing Council of Future Earth (an international network focussing on sustainability sciences) and a member of the Board of the International Academy Partnership (IAP).
She holds an MSc in Organic Chemistry (1990) and a PhD in Biochemistry (1994) from Rhodes University. Her academic career started with a lectureship in Biochemistry and Biotechnology at Rhodes University, and she subsequently became a Professor in Chemical Engineering at the University of Cape Town. She served as Director of Postgraduate Studies, and Director of the Biocatalysis and Technical Biology Group, at Cape Peninsula University of Technology before her appointment to the UP Executive. Her research interests are in sustainability, and applied biochemistry, and she has published widely and supervised numerous postgraduate students.
Professor Burton has a strong interest in research capacity building and research ethics and integrity. She is recognised for her leadership and expertise in research strategy, research management, and performance, postgraduate training, innovation activities, open science and science communication initiatives, and internationalisation programmes. She is currently coordinating national projects on mentoring and capacity development for early career academics.
She is the Chairperson of the Universities South Africa (USAf) Community of Practice in Postgraduate Education and scholarship, and serves on several other national and international bodies related to research and doctoral training.