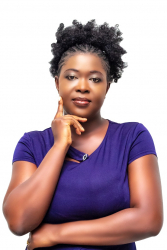 Biography
Dr. Yankson Nsiah is an Occupational Medicine Practitioner and CEO of Healthwise Medical Services Ltd, a private medical service provider in Tema, Ghana. It is noteworthy to share that she begun this hospital from the ground up navigating the union of health, business startup, ingenuity and innovation to make the hospital what it is now.
Dr. Yankson Nsiah obtained firstly, a Bachelor of Science Degree in Human Biology in 2007 and a Bachelor of Medicine and Bachelor of Surgery in 2010 from Kwame Nkrumah University of Science and Technology, she proceeded to Cardiff University where she was awarded MSc. Occupational Health (Policy and Practice) in 2018. She also holds a Diploma in Petroleum Medicine from the Norwegian Institute of Maritime Medicine.  
Dr. Yankson Nsiah researched and co-authored 'The Evaluation of an ICD Logging system to supplement an EMR in Ghana', published in the American Journal of Health Administration. This study was as a result of a collaboration between the Center for Bioinformatics and Genetics and the Primary Care Research Network, Edward Via College of Osteopathic Medicine (VCOM), Blacksburg, VA, United States and Healthwise Medical Centre, Tema, Ghana, West Africa.  She is currently pursuing her interest in studying the determinants of sickness absence in the construction industry in Tema, Ghana.
Dr. Yankson Nsiah's research interests and practice have been to underscore the import of preventive medicine to local industry. Her Occupational Health program for the Construction and Power manufacturing industries in Tema affects over 5000 persons annually. By coordinating with various Occupational Health, Safety and Environment (HSE) managers to initiate Pre-employment, Periodic/Annual and Exit medical examinations, many locals experience their first and subsequently few opportunities to be examined by a Doctor in their lifetime.  
During the initial upsurge of the corona virus in Ghana, Dr. Yankson Nsiah's hospital was the only private medical facility offering Covid-19 testing in Tema, Ghana and played a significant role controlling and managing community transmission. Since that time, Healthwise Medical Centre under her leadership, has led in the screening of employees of most of the construction and manufacturing companies in the Tema Industrial area for Covid-19 on a regular basis.
Her role as the leader and manager of a hospital and five worksite clinics with 45 employees is fulfilling but her goal is to ensure that Occupational Health finally becomes an integral part of industry in Ghana. She was recognized as an Emerging leader in the 2020 Leaders in Health and Tech  Awards
She is a Board member for two Charities (Ghana Wellness Foundation and Lovenest Foundation) and is married with two children.