Overview
ASADI Evaluation. In 2013, the InterAcademy Council (IAC) was requested by the US National Academy of Sciences to conduct an independent, summative evaluation of the African Science Academy Development Initiative (ASADI). ASADI will be evaluated using the objectives and milestones established in the ASADI grant and annual reports. The evaluation will focus on the output and outcomes of investments in the three original "intense" partners (Uganda, Nigeria, and South Africa) as well as the academies in Cameroon and Ethiopia which started to receive substantial investments in 2011. The evaluation will also assess the impact of the annual meetings as a vehicle for achieving the goals of the program. Lessons learned from the perspectives of the US NAS and its African partners concerning the capacity-building processes employed will also be captured. 
The evaluation will employ a consensus committee process involving five individuals with substantial expertise in the provision by academies of independent, evidence-based advice; the African scientific-political context; the evaluation of development programs; the governance of science academies; and the administrative and financial management of small non-profit organizations in Africa. The committee includes representation from more developed regions of the world as well as Sub-Saharan Africa. 
Expert Advice. The InterAcademy Council (IAC) is a multinational organization of science academies created to produce reports on scientific, technological, and health issues related to the great global challenges of our time, providing knowledge and advice to national governments and international organizations. Sound scientific, technological, and medical knowledge is fundamental to addressing critical issues facing the world today – economic transformation and globalization; sustainable use of natural resources; reduction of poverty, hunger, and disease.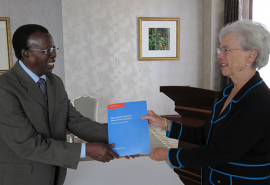 Turner Isoun, Chair of the IAC Panel to Review ASADI, presents the evaluation report to Enriqueta Bond, Chair of the ASADI Board, 10 November 2014, Kampala, Uganda
From left, IAC Executive Director Tom Arrison, ASADI Review Panel Chair Turner Isoun, Study Director Ruth Cooper and Study Coordinator Dorothy Ngila