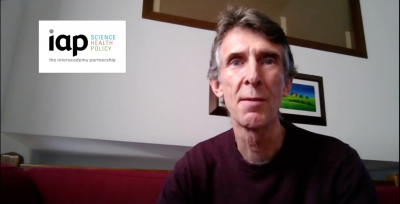 A COVID-19 curriculum for African schools: how a teaching resource can help fighting the pandemic
Watch the presentation by IAP Coordinator Peter McGrath at the 2020 World Conference on Science Literacy
IAP Coordinator Peter McGrath joined the "Scientific Prevention and Control against COVID-19" session of the 2020 World Conference on Science Literacy organised by the China Association for Science and Technology (CAST) and supported by the United Nations Educational, Scientific and Cultural Organization (UNESCO), the International Science Council (ISC), the World Federation of Engineering Organizations (WFEO), and The World Academy of Sciences for the advancement of science in developing countries (TWAS).
McGrath presented the work of the IAP Science Education Programme (SEP) and highlighted the key role science education can play in the global fight against COVID-19. He also put on the spotlight 'COVID-19! – How can I protect myself and others?', the new COVID-19 guide for youth by IAP, Smithsonian Science Education Center, and the World Health Organization (WHO).
McGrath stressed the fact that
one important facet of the IBSE [Inquiry-based Science Education] method of teaching – that we have come to understand over the years – is that children are so enthused about how they are learning science that they talk to their parents about it. Thus IBSE is a great driver of science literacy – moving knowledge and understanding beyond the schools to the broader community. Through this project, therefore, I hope that we can reach hundreds of science teachers, and literally thousands of young students across the continent will gain a better understanding of how they can protect themselves and others from the novel coronavirus!
You can watch the full presentation here:
Among others, the conference featured Romain Murenzi, TWAS Executive Director,
As we face the #COVID-19 pandemic, "we must urgently consider the importance of science literacy in the wider society" says @TWASnews Executive Director Romain Murenzi at the CAST World Conference on Science Literacy pic.twitter.com/mVNTvX00yV

— InterAcademy Partnership (IAP) (@IAPartnership) December 8, 2020
and Shamila Nair-Bedouelle, Assistant Director-General for Natural Sciences of UNESCO.
"Science has value only if we know how to find it," says @UNESCO's Shamila Nair-Bedouelle at the "World Conference on Science Literacy – how the global science community can cope with major pandemics" organised by cast. Follow it live on @CGTNOfficial https://t.co/ZlSkg1Tz4Z pic.twitter.com/RmPQ1vZMCJ

— InterAcademy Partnership (IAP) (@IAPartnership) December 8, 2020
Xi Jinping, Secretary General of the Central Committee of the Chinese Communist Party and Chinese President, sent a congratulatory letter to the Conference, pointing out that science and technology (S&T) are the primary productive forces, and innovation is a crucial driving force behind development.
At present, the rise of a new round of global S&T revolution is having profound impacts on the development landscape of the world and bringing significant changes to the way we work and live, and strengthening the coordinated innovation of the S&T industry and all sectors of the society while advancing openness and cooperation between countries is an important approach to enhancing the role of the S&T development in the progress of human society, he said.
Xi emphasised that China has been attaching great importance to science popularisation and constantly improving the science literacy of Chinese people. China had been active in exchanging ideas with other countries on promoting science and enhancing science literacy, in a bid to facilitate the sharing of development achievements and the joint building of a prosperous world. He said he hoped participants would exchange opinions on how to popularise scientific knowledge, advocate scientific spirit, disseminate scientific concepts and promote scientific approaches, so as to better learn from each other and contribute to improving science literacy, sharing scientific achievements and advancing the building of a community with shared future for mankind.
In his welcome, letter Antonio Guterres, UN Secretary-General, stressed the fact that
[s]cience, technology and innovation are crucial for addressing the challenges of our time, from climate change and food security to healthcare and protecting the planet. However, many countries and regions have limited access to the benefits generated by science, owing mainly to poverty, lack of quality education and the digital divide. As we strive to achieve the Sustainable Development Goals, we must do more not only to harness science for good, but to advance science literacy. In that spirit, I thank China Association for Science and Technology for organizing this event. The United Nations, including through UNESCO, will continue its efforts to support developing countries in building a critical mass of scientists, researchers and engineers, with a focus on young people, and in particular young women who are often held back owing to negative stereotypes and cultural barriers. Science literacy opens the door to progress.
You can watch the full conference here:
.
The recordings of the event with all 12 sessions are now available on the conference webpage: www.worldacademy.org/gl-geneva.
Do not miss news and updates on the activities, opportunities and events of The InterAcademy Partnership (IAP), its regional networks, member academies and other partner organisations: subscribe to our quarterly newsletter, and follow us on Twitter, LinkedIn, and Youtube.