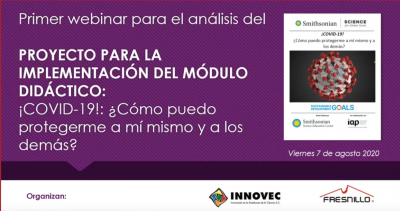 'COVID-19! How Can I Protect Myself and Others' teaches students in Mexico how to stay safe
The new COVID-19 guide for youth by IAP, Smithsonian Science Education Center, and WHO is having an impact
'COVID-19! How Can I Protect Myself and Others' has made it all of the way to students in Mexico. The guide, which is based on the UN Sustainable Development Goals, aims to help young people understand the science and social science of COVID-19 as well as help them take actions to keep themselves, their families and communities safe.
This rapid-response guide for youth ages 8–17 is the result of a collaboration between the Smithsonian Science Education Center (SSEC), the World Health Organization (WHO) and the InterAcademy Partnership (IAP). It includes updated research, activities, quotes from scientists and frontline public health officials, and physical and emotional safety tips on COVID-19. It also integrates inquiry-based science education with social and emotional learning and civic engagement.
"Members of the INNOVEC (Innovación en la Enseñanza de la Ciencia) team supported the SSEC to provide a Spanish language webinar for our colleagues in Latin America and the US to support their implementation of this hands-on activity guide with young people in their own communities," says Carol O'Donnell, director of the Smithsonian Science Education Center and member of the IAP Science Education Programme (SEP) Global Council.
"Then, they received a grant to break every lesson down into short videos, using the "Discover, Understand, Act" framework from the module, and distributed it through WhatsApp so that their network of educators could share the material with students in their own communities, and parents and families. They are now working on ways to disseminate the module and these videos to teachers broadly in Mexico, whose students are learning remotely," she adds.
Guillermo Fernandez, member of the INNOVEC Board in Mexico, and well known advocate of Inquiry-based Science Education (IBSE), highlighted the importance of the COVID-19 module as a wonderful example of how science education can be relevant to manage one of the worst human problems in decades,  giving children and young people the basic understanding of the why´s and how´s of their adequate behavior to keep them, their families and their communities, with as few cases as possible.  The module has been also very useful to interest children and  young people, as well as parents and teachers, in the science of the virus, of related diseases and in the medical issues involved. The video below shows students' work from learning about COVID-19, with some student examples:
"We firmly believe all children should have the chance to develop their scientific understanding and rational thinking, and this guide helps them to adjust their behaviour to keep themselves and their  families safe from COVID-19. We hope that in the near future other schoolchildren will have the chance to learn from it, and that is why the guide is available in more than 24 languages," says Wafa Skalli, Chair of the IAP Science Education Programme (SEP) Global Council.
📢Some great news: 'COVID-19! How Can I Protect Myself and Others' has made it all of the way to students in 🇲🇽Mexico!

The new COVID-19 guide for youth by IAP, @SmithsonianScie, and @WHO is having an impact
👉https://t.co/ctbTM7M7zA #IBSE pic.twitter.com/mITfkmI8GX

— InterAcademy Partnership (IAP) (@IAPartnership) September 24, 2020