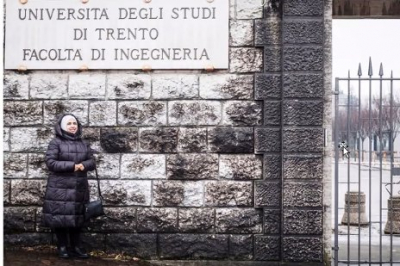 The Gender Dimension of Refugee and Displaced Scientists
Watch the recording of GenderInSITE-TWAS-IAP session
Refugee and displaced scientists
A project aimed at supporting Refugee and Displaced Scientists was established by The World Academy of Sciences (UNESCO-TWAS) in partnership with the International Science Council (ISC) and the InterAcademy Partnership (IAP), under the umbrella of Science International and launched in 2020. It aims to develop a cohesive and coordinated response that will assist scientists who have been rendered refugees, or are otherwise displaced by crises in their home countries.
On 8 March 2021, Gender in Science, Innovation, Technology and Engineering (GenderInSITE), TWAS and IAP representatives discussed the Gender Dimension of Refugee and Displaced Scientists at the World Forum for Women in Science, hosted by Women in Science Without Borders (WISWB). The session, co-moderated by Peter McGrath, IAP Coordinator, is available on YouTube:
Part 1
Part 2
Sena Galazzi, Associate Programme Officer at UNESCO-TWAS, introduced the Science International initiative, and highlighted that the project is now working towards forming a network and building an advocacy campaign to bring together scientists, policy-makers and organizations to address the needs of refugee and displaced scientists.
Gender perspectives
Subsequently, testimonies from two women scientists highlighted the challenges they faced in their home countries and in their 'foster' countries as both displaced scientists, and as wives and mothers.
Back in their home countries they had promising academic careers and a semblance of normality in that they were well connected to the rest of the world through travel to international meetings and conferences and through good internet connections. Their decisions to leave, like many others, were prompted by various factors: in some cases it was conflict, religious persecution, fears for their  family safety and an escape from service in a hostile military regime; in others it was unfair dismissal from their jobs, a failing economy and lack of prospects for the future.
"There is the need to link female scholars to funding organisations that can support them in host countries," said Ghanya Al-Naqeb, a researcher from Yemen now working at the University of Trento, Italy.
"Displaced scientists can contribute significantly to their host countries, they only need a helping hand," added Saja Al Zoubi, a gender and forced migration researcher from Syria who is now based at the University of Glasgow, UK.
What is readily apparent is that the decision to leave the familiarity of one's home country is not an easy one. There are many challenges present. In war-torn countries, there are the challenges of securing travel documents as embassies are often closed and internet connectivity is disrupted. Imposed sanctions can add other difficulties.
"Successful departure displays a level of resilience that few of us can begin to understand," explained Roseanne Diab, Director of GenderInSITE, who co-moderated the panel.
The pathways followed by individual scientists in their journey from home to their current destination country are convoluted, frequently made up of short-term stays in neighbouring countries, which act as launch pads to a sequence of more desirable countries, which emerge as a result of opportunities that may arise. Opportunities such as fellowships and temporary teaching positions are generally short-term and precarious, however, necessitating adaptation to an ever-changing and transient set of circumstances.
Those who secure positions, even if temporary, in their scientific fields are the fortunate ones. Many slip under the radar and struggle in low-level, low-paying positions before they are able to re-enter the academic and scientific system. The gap in rank is often large; from being highly-regarded, senior scientists in their home country, displaced scientists frequently find that they are compelled to start rebuilding their careers from the beginning.
The challenges confronting them in their new host community may be just as difficult as those they faced along the journey to their destination country. Al-Naqeb and Al Zoubi both spoke of difficulties of language, social isolation, an alien culture and a lack of understanding of how their host society functions. Furthermore, they addressed the importance of understanding the situation of displaced and refugee scientists' and their needs in host countries.
''The concept of refugee and displaced scientists should be considered in the host country policies to resolve the dilemmas they face,'' said Al Zoubi.
"Viewing the circumstances of refugee and displaced scientists through a 'gender lens' gives valuable insights. Anecdotally, it is reported that the majority of displaced and refugee scientists are men, but the absence of sex-disaggregated data, precludes us from giving the exact breakdown between men and women. Male migration often happens first and opens up a channel for women to follow," explained Diab.
Women scientists who have been displaced also speak of the challenges of balancing careers and family life, the absence of proper maternity leave, and the lack of a family and social support system, added the GenderInSITE Director, stressing the fact that traditional challenges faced by women scientists are compounded by the intersection of their refugee or displaced status with their gender.  It leaves them vulnerable and often without a voice; they are reluctant to speak of the hardships as the possibility of even short-term employment in academia, even if it is with few benefits, is such an overwhelming desire.  
"Drawing attention to the predicament of displaced women scientists, places a responsibility on an initiative such as GenderInSITE, to work with established organisations, such as TWAS, IAP and ISC,  that have already embarked on an initiative on refugee and displaced scientists, to bring a gender lens to bear on the issue," adds Diab.
Diab also notes that we need to know the proportions of men and women who are displaced scientists, how many women have been prevented from leaving simply because of their gender and are now lost to the scientific workforce. We also must address the specific needs of women scientists over and above the very important needs of men scientists; how can they be supported; and how can we connect with bodies that offer such support.
Second Science International Refugee and Displaced Scientists workshop
To address this and other issues, the second Science International Refugee and Displaced Scientists workshop will be held over two days, Tuesday 30 March and Thursday 1 April 2021, from 14:00 –17:30 Central European Time (CET).