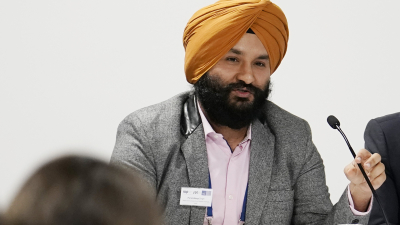 IAP YPL alumnus appointed as a member of the Technical Advisory Committee of the WHO
Paramdeep Singh joins the clinical diagnosis, imaging and microscopy cross-cutting sub-group of the WHO Diagnostic Technical Advisory Group (DTAG) for Neglected Tropical Diseases
Dr. Paramdeep Singh, Associate Professor of Radiology at Guru Gobind Singh (GGS) Medical College and Hospital, Faridkot, Punjab (Constituent institution of Baba Farid University of Health Sciences) has been appointed as a member of the clinical diagnosis, imaging and microscopy cross-cutting sub-group of the World Health Organization (WHO) Diagnostic Technical Advisory Group (DTAG) for Neglected Tropical Diseases.
The DTAG for Neglected Tropical Diseases was established in response to the urgent need for new and improved NTD diagnostic tools. DTAG will assist WHO in reviewing and prioritizing diagnostic needs for NTD programs, defining use cases and target product profiles (TPPs) for diagnostics tools, and facilitating test development and validation. The cross-cutting sub-groups will support the DTAG by providing expertise to assist with support to the more complex cross-cutting issues, in this case clinical diagnosis, imaging and microscopy.
As a sub-group member, Dr. Singh will participate in annual in-person meetings with additional teleconferences or virtual meetings organized, as necessary.
In 2019, Paramdeep Singh was selected by the InterAcademy Partnership (IAP) for the Young Physician Leaders (YPL) programme. He is a member of the Indian National Young Academy of Science (INYAS) and the National Academy of Medical Sciences (NAMS), India.
Neglected tropical diseases
WHO's Department of Control of Neglected Tropical Diseases coordinates and supports policies and strategies to enhance global access to interventions for the prevention, control, elimination and eradication of neglected tropical diseases, including some zoonotic diseases. Consistent with World Health Assembly resolutions and in line with the WHO NTD Roadmap, it supports Member States to expand access to prevention, diagnosis, treatment and care interventions for all those in need.