Paramdeep Singh
Contacts
paramdeepdoctor@gmail.com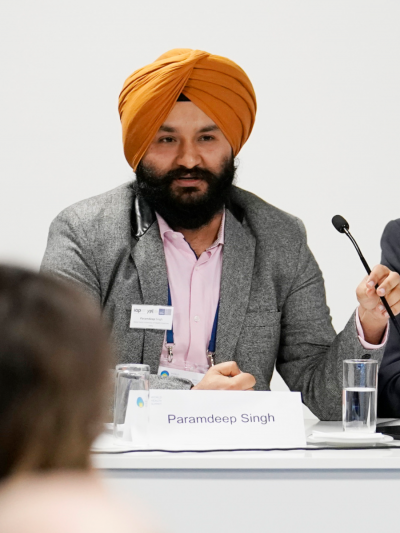 Biography
Dr Paramdeep Singh is serving as an Additional Professor of Radiology at All India Institute of Medical Sciences (AIIMS), Bathinda, India.  He was earlier working as an Associate Professor of Radiology at University Hospital of Baba Farid University of Health Sciences (BFUHS) in India. He has also served as a visiting faculty (Honorary) at Advanced Cancer Institute and Research Centre, India. Dr. Singh has been nominated as the Focal point for the Sustainable Development Solutions Network (SDSN) and has been appointed as the Ambassador to the Asian Council of Science Editors. Dr Singh is the member of Research Advisory Committee, Scientific Advisory Committee, Medico-legal committees, member of the consultative group of Principal Scientific Advisor to government and various other Government/Institutional committees related to teaching, research, clinical service and other administrative/policy issues. He has also served as the President of the association of doctors of his institution. Dr Singh is a member of many scientific societies and associations, especially the International Forum of Teachers, which is a part of the Education Department of the UNESCO Chair in Bioethics (Haifa) and has also been appointed as a Subject Expert for conducting examinations at the national level.
While maintaining a healthy balance between teaching, research and clinical service, Dr Singh have authored many peer-reviewed publications, apart from having more than numerous presentations at National and International scientific meetings. He was selected for the prestigious European Society of Radiology clinical and research fellowship in Neuroradiology at the University of Freiburg (Germany). The World Stroke Organization also selected him for its Clinical Exchange Programme at the same institute that he completed in the year 2019. Dr Singh is the recipient of many awards, scholarships and recognitions most notably the Young Investigator award by World Stroke Organization. He is serving as a member of the Indian National Young Academy of Science, National Academy of Medical Sciences and Punjab Academy of Sciences (India). He has also been elected as a Fellow of the International Medical Sciences Academy and the World Academy of Medical Sciences.   
As a Radiologist, Dr Singh is handling the imaging data of patients on a day-to-day basis. He uses imaging techniques such as Computed Tomography (CT), Fluoroscopy, Mammography, Magnetic Resonance Imaging (MRI), Ultrasound, Positron-emission tomography (PET-CT) and X-rays to diagnose and manage a variety of medical conditions and write up the imaging reports. Based on the imaging, he offers specialist expertise and guidance to other physicians and staff from a range of medical specialities in hospital settings to ensure quality treatment of patients. He also performs and supports patients through various diagnostic and interventional radiology procedures on routine as well as on an emergency basis. Besides this, he uses the Health Information Technology (HIT)/eHealth to provide Health care to patients in remote areas. He practices Evidence-Based Medicine by integrating clinical experience and patient values with the best available research information.