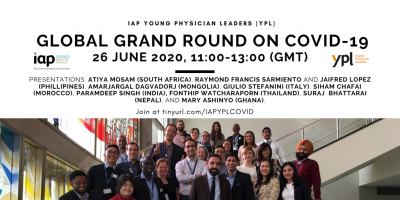 A success for the first IAP YPL COVID-19 Global Ward Round
Participants included fellow IAP alumni as well as other interested participants from Africa, the Americas, Asia, and Europe
On 26 June 2020, alumni of the IAP Young Physician Leaders programme hosted a Global Ward Round. The engagement centered around country responses to COVID-19 and presentations were made from alumni from Ghana, Italy, India, Mongolia, Morocco, Nepal, Philippines, South Africa, and Thailand.
Participants included fellow IAP alumni as well as other interested participants from Africa, the Americas, Asia, and Europe. Participants found the inputs from presenters very useful and were interested to see how various country responses played out. There was a great sense of sharing, learning, camaraderie and connection, which is especially important in these trying times and is something that the YPL programme aims to foster.
"Ghana's response has been a 5-prong cross sector approach involving efforts from health, financial and economic sector, security, social protection, immigration and information and communication," explained YPL alumna Mary Eyram Ashinyo. Subsequently, Paramdeep Singh shed some light on India's health and social measures, including providing help via WhatsApp and establishing a health insurance for health workers, and Giulio Stefanini shared his experience on cardiovascular implications of the pandemic in Italy, including studying the characterization of myocardial injury in COVID-19 and its impact on mortality.
"Mongolia's health system measures to fight COVID-19 include public information campaigns, testing, contact tracing of travellers, and emergency investments in healthcare," said Amarjargal Dagvadorj, adding that Mongolia had recorded no deaths from COVID-19. Then Siham Chafai presented the situation of Morocco, a country that at the beginning of July officially entered a phase of deconfinement at the national level with the exception of Marrakech, Tanger, Larache and Asilah, cities where rates of infection are still high.
"Unlike other countries, around 90% of the cases of COVID-19 we have in Nepal are male young adults," highlighted Suraj Bhattarai,  who is not only a YPL alumnus, but also member of the IAP Urban Health working group and of the Global Young Academy.
Then the attention turned on the Philippines. ""Here (...) we used mathematical modelling of COVID-19 spread as part of our decision-making process," said Raymond Francis Sarmiento, stressing the fact that there has been a slowing of the spread of the virus in Manila but not everywhere in the country; Jaifred Christian Lopez noted that public health authorities have seen a variability in the capacity to respond across the more than 7000 islands that form archipelago, adding that collaboration is key in the fight against the pandemic and "there is an immense need for capacity building in surveillance and response".
 "The South African society is one of the most unequal  societies in the world," said Atiya Mosam (who also moderated the event), adding that Western Cape is the province with the highest rate death COVID-19 in her country, and that measures put in place included not only COVID-designated hospitals, screenings areas at health facilities, increasing critical care capacity, and constructing field hospitals and quarantine facilities, but also cancelling non-essential services.
"In Thailand about half of the patients are in Bangkok," said Fonthip Watcharaporn, highlighting that the country's lockdown strategy includes the closure of schools, offices, religious sites, and borders; screening programs; quarantine and curfew.
The presentations were very well received by the audience, who gave their feedback via an online form.
Veiile Ngidi, a Public Health Specialist in training from South Africa commented that, "[t]his was a really informative session. It's really nice to gain a global picture on Public health issues in various countries and to learn from each other", whilst another participant noted that, "hearing some details of a nation's response efforts, effects and challenges of the COVID pandemic is a learning experience. As an example, it makes you reflect and look for those parameters that were discussed by the speakers in your own country's data."
The YPL alumni hope to continue these engagements on a regular basis to foster cross country engagement and learning. If you would like to be informed of further events, please complete the following form: https://forms.gle/pF2MbgfWsP85tMX36.