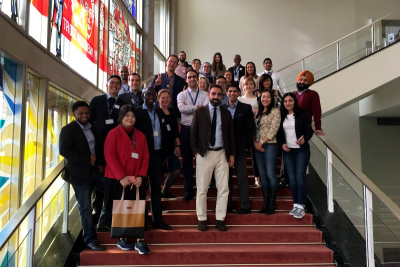 Join IAP Young Physician Leaders alumni to discuss countries' responses to COVID-19
On 26 June the 2019 YPL cohort will highlight various country situations and responses to the pandemic as a means to learn from each other
The 2019 IAP Young Physician Leaders (YPL) cohort invites you to attend and participate in a YPL COVID-19 Global Ward Round.
"The YPL programme has brought together doctors from all over the world that work in different contexts ranging from direct patient care to research, policy and management. This provides us the unique opportunity to share our varied and similar experiences, especially as they relate to our individual countries response to COVID-19, where we are all facing a similar challenge," explains Atiya Mosam, Public Health Medicine Specialist and Senior Researcher at the SAMRC/ Center for Health Economics and Decision Science in Johannesburg, South Africa and Director at Common Purpose, South Africa.
"We hope that this will foster learning and collaboration not only in our cohort but with YPLs in our countries and across cohorts as well," she adds.
"The 2020 YPL Global Grand Round on COVID-19 aims to highlight the role of young physician-leaders who are at the forefront of their respective country's response to the global pandemic, ranging from mathematical modeling of COVID-19, telehealth policy and implementation work, and interoperability of clinical and non-clinical information systems," highlights Raymond Francis Sarmiento, Director of the National Telehealth Center at the National Institutes of Health and Clinical Assistant Professor at the College of Medicine's Medical Informatics Unit of the University of the Philippines, Manila.
"Through this Global Grand Round, the YPLs will be given a platform to share experiences and learn from each country's strategic approach to fighting COVID-19," he adds.
Presentations: Atiya Mosam (Facilitator and Presenter, South Africa), Raymond Francis Sarmiento and Jaifred Lopez (Phillipines), Amarjargal Dagvadorj (Mongolia), Guilio Stefanini (Italy), Siham Chafai (Morocco), Paramdeep Singh (India), Fonthip Watcharaporn (Thailand), Suraj Bhattarai (Nepal), and Mary Ashinyo (Ghana).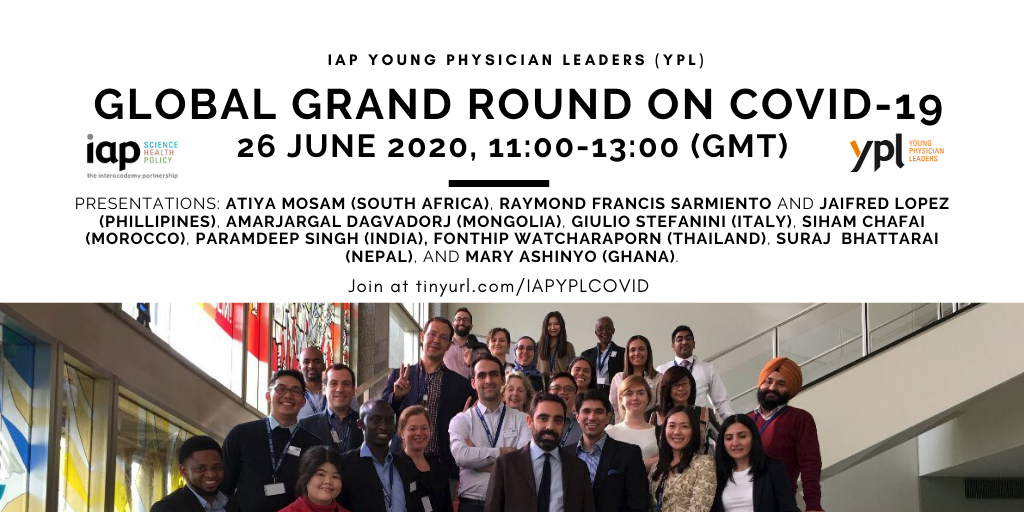 The ward round will take place on Friday, 26 June 2020 (11h00 -13h00 GMT) via Zoom. Interested attendees should complete the Google Form in order to receive the meeting details and agenda (https://forms.gle/ewtmY5W4a5CQ97mu6).
To discover more about the Young Physician Leaders Programme check this video.