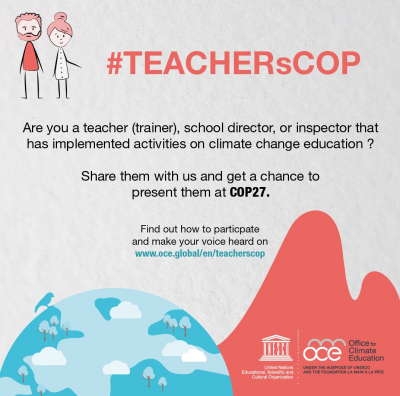 Join the TeachersCOP at COP 27
An opportunity for you teachers, school principals or inspectors who have set up activities on climate change education
What is the TeachersCOP?
The TeachersCOP is an international event created by the Office for Climate Education (OCE), to highlight to global politicians and decision-makers the work of teachers, the challenges they face and the key role they play in the global climate response. The first edition took place during the COP26 held in Glasgow and counted with the participation of more than 500 teachers from more than 35 different countries. Following this success, the OCE has decided to renew the experience and once again bring the voice and the great work of teachers, this time to COP27 to be held in Egypt from 6 to 8 November 2022.
Who can participate in the TeachersCOP?
This year the TeachersCOP is aimed at all primary and secondary teachers as well as their trainers, school directors or inspectors.
How can I participate?
We want to know what you are doing! For this edition of TeachersCOP we are looking for projects and initiatives that you have already implemented on climate change education in your classroom or establishment. These projects must fit into one of the four categories set by teachers on a declaration they created and voted on at the first TeachersCOP:
School Curriculum: Examples of how you have successfully tackled climate change in class using the curriculum school (even in cases where this is not explicitly mentioned).
Professional development of teachers: Initiatives of teachers (or inspectors, directors, trainers) organizing themselves together to train themselves or others / share resources / organize conferences / workshops / etc... in climate change education.
Teaching resources:  Creative teaching sequences or activities on climate change carried out by teachers at the class level.
The place of the school in the context of climate change: Climate change education projects developed at the school level (with or without the intervention of external stakeholders).
To submit a project, simply share it with us by directly completing this form before 16 October (11:59 p.m. French time).
The form does not allow you to save information and come back later. Thus, we advise you to look at it first to find out about the different information requested and to complete it later when you have all the information required.
More information is available on the OCE website.