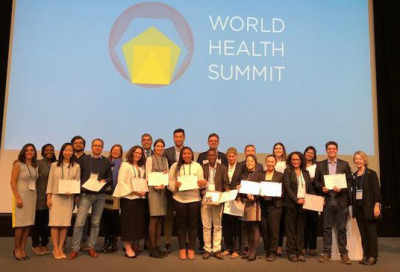 Meet the next generation of IAP Young Physician Leaders
The YPL programme will take place on 24-29 October 2019 in conjunction with the World Health Summit.
The next generation of physician leaders has been chosen and will meet in Berlin, Germany, for the InterAcademy Partnership's Young Physician Leaders (YPL) Programme. Since 2011, this tailored workshop on leadership has provided 191 outstanding young health professionals with the skills they need to promote health and strengthen health systems around the world. The programme will take place on 24-29 October 2019 in conjunction with the World Health Summit (27-29 October 2019), a leading international forum for global health.
"This program identifies and convenes a diverse group of outstanding early career physicians from multiple specialties and career interests—education, clinical practice, public health and health policy and  research--who are committed to being change agents for health in their countries. They come from all regions of the world and diverse societies at very different stages in their economic development," says Jo Boufford, YPL Project Coordinator.
Participants have been chosen by a committee of medical and scientific professionals, who reviewed the nominations received by the global network of the InterAcademy Partnership (IAP): 140 national and regional member academies collaborating to provide independent expert advice on scientific, technological and health issues, and the 'M8 Alliance', a unique network of 25 leading international academic health centres, universities and research institutions.
"Effective health care and health policy leadership need effective leaders, but many young professionals have to learn their leadership skills almost by trial and error as too few countries are actually providing the necessary training. The IAP YPL programme fills this gap," explains Dr. Peggy Hamburg, IAP Health Co-chair.
"The IAP Young Physician Leaders will engage in peer-to-peer learning and join a network with whom to continue to share experiences and exchange best practices after the workshop," adds Depei Liu, IAP President and IAP Health Co-chair.
The YPL programme has a focus on analysing models of leadership with the aim of developing an individual action plan for personal leadership growth, and includes visits to the Bayer Science and Education Foundation's and Siemens Healthineers' research laboratories in the Berlin area.
"Furthermore, awardees will participate in the evens of the World Health Summit, a forum within which the YPL will be exposed to an outstanding scientific and policy programme attended by a global group of medical and policy professionals," says Professor Detlev Ganten, Founding President of the World Health Summit.
The IAP Young Physician Leaders will also have the opportunity to make the most of a matchmaking mentorship scheme, and have access to an interactive website to post real-time professional information and gain visibility both nationally and internationally.
This year's  YPL programme participants include 24 physicians below the age of 40 coming from 21 countries on 4 continents:
Amarjargal Dagvadorj, nominated by the Mongolian Academy of Sciences
Atiya Mosam, nominated by the Academy of Science of South Africa (ASSAf)
Fernanda Cruz, nominated by the Brazilian Academy of Sciences and the National Academy of Medicine of Brazil
Fonthip Watcharaporn, nominated by the Thai Academy of Science and Technology
Giulio Giuseppe Stefanini, nominated by the Accademia Nazionale dei Lincei
Hassan Mansoor, nominated by the Pakistan Academy of Sciences
Igor Peev, nominated by the Macedonian Academy of Sciences and Arts
Isaac Iskander Maro, nominated by the Tanzania Academy of Sciences
Jaifred Christian Lopez, nominated by the National Academy of Science and Technology, Philippines
Jaime A. González, nominated by the Chilean Academy of Medicine
Julio Munoz Miguel, nominated by the Real Academia de Ciencias Exactas, Físicas y Naturales, Madrid, Spain
Luna Santana Matos, nominated by Bayer
Maithri  Goonetilleke, nominated by Monash University, Australia
Marissa Sees, nominated by Bayer
Mohammadreza Naderian, nominated by Tehran University of Medical Sciences
Nikoletta Szabo, nominated by the Hungarian Academy of Sciences
Paramdeep Singh, nominated by the Indian National Young Academy of Science (INYAS)
Raymond Francis Sarmiento, nominated by the National Academy of Science and Technology, Philipppines
Ronald Mbiine, nominated by Makerere University College of Health Sciences
Rubeshan Perumal, nominated by the Academy of Science of South Africa (ASSAf)
Sadhbh Lee, nominated by the Royal Irish Academy
Sebastian Siebelmann, nominated by the German National Academy of Sciences Leopoldina
Siham Chafai Elalaoui, nominated by the Hassan II Academy of Science and Technology
Yangmu Huang, nominated by the Chinese Academy of Engineering