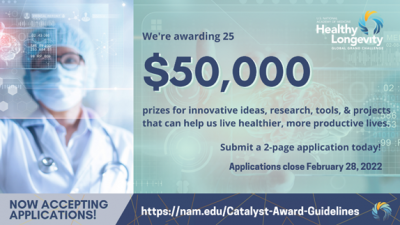 The NAM is accepting applications for the 2022 cycle of its U.S.-based Healthy Longevity Catalyst Awards
Ideas may focus on any stage of life, as long as they ultimately promote health as people age
The Catalyst Awards—part of the broader Healthy Longevity Global Competition—reward bold, new, potentially transformative ideas to improve the physical, mental, or social well-being and health of people as they age, in a measurable and equitable way.
The National Academy of Medicine (NAM) is currently seeking bold, new, and innovative ideas that aim to extend the human healthspan (i.e., the number of years lived in good health), especially approaches that challenge existing paradigms or propose new methodologies or concepts. High-risk ideas that could potentially yield high rewards and, in turn, dramatically change the field of healthy longevity are encouraged.
Up to 25 innovators will each receive a cash prize of $50,000 plus travel costs to attend the annual Global Innovator Summit in 2023.
Anyone with an exciting new or early-stage project with the potential to improve the mental, physical, or social health and well-being of individuals at any age are encouraged to apply. In addition to the winners, all applicants advancing to the final stages of the review process are automatically considered for subsequent funding in the form of an Accelerator Award, the second phase of the Global Competition, worth $150,000 to more than $1 million USD.
Deadline to apply is 28 February 2022, at 11:59 pm EST.
More informations are available at https://nam.edu/Catalyst-Award-Guidelines.