Khalid Mahmood Khan
Secretary General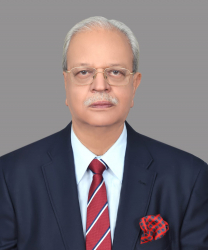 Biography
Prof. Khalid Mahmood Khan obtained his Ph.D. in Biochemistry from University of Edinburgh, UK in (1967-70) and he completed his Post Doctorate in Biotech. & Genetic Engineering from University of Missouri, USA in (1989).
He is the President of Pakistan Academy of Sciences (PAS), Professor Emeritus, University of Agriculture, Faisalabad and Secretary General, Network of Academies of Science in Countries of the Organization of Islamic Conference (NASIC). He served as Vice Chancellor, PMAS Arid Agriculture University, Rawalpindi, Chairman, Pakistan Science Foundation (PSF), Islamabad, Chairman, Pakistan Council of Scientific & Industrial Research (PCSIR), Secretary General, Pakistan Academy of Sciences (PAS), Member, National Commission on Biotechnology (NCB) and President, Pakistan Society of Molecular Biology and Biochemistry.
In addition, Khalid Mahmood Khan has been Member of Governing bodies of more than thirty R&D organizations across the country. He has supervised the research thesis of 54 students of M.Sc., M. Phil and Ph. D. He has 51 Publications in National and International Scientific Journals and 4 Books.
President conferred Pakistan's Civil Award (Sitara-i-Imtiaz) to Prof. Dr. Khalid Mahmood Khan in recognition of their services to Pakistan and showing excellence in their respective fields.