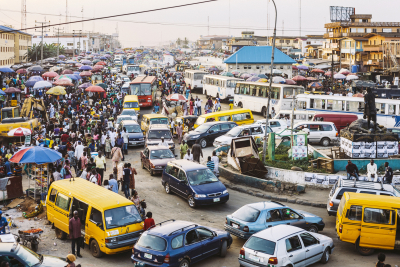 IAP and NASAC call attention to opportunities for Africa to lead the transport decarbonisation movement
Scientists, engineers, planners and policymakers discuss challenges and opportunities to decarbonise transport in Africa in workshop and new report
Globally, nearly a quarter of all greenhouse gas emissions come from the transportation sector. While much focus has understandably been placed on the largest CO2 emitting economies, there is an exciting opportunity to focus more attention on Africa. 
Though Africa currently has one of the lowest motorisation rates globally, it is poised to become a major new player in the transport sector in the near future, with the potential to become a leader in the decarbonisation of transport movement. Leapfrogging fossil-fuelled transportation promises economic, environmental, human health, and infrastructure benefits to African governments and societies. Africa's rich renewable energy resources, short daily travelled distances, and young workforce make the Continent's potential for electrification uptake strong. While some governments have taken laudable steps in reducing fossil fuel use in the transport sector, these efforts must be further coordinated and scaled up to secure the Continent's energy future. Barriers include lack of enabling policy frameworks and integrated planning, the affordability of electric vehicles, unreliable electricity generation, lack of awareness, and a lack of supporting infrastructure, particularly in rural areas. 
IAP and NASAC held an online workshop 15-17 November 2021 organized by a planning committee of academy-nominated experts from across Africa and Europe. Over the three days, 178 participants from 41 countries (27 countries in Africa and 14 others), across government/intergovernmental, academia and academies, NGOs, and the private sector participated. The workshop was intended to help frame the potential focus area of the anticipated IAP-NASAC 18-month follow-up study on the challenges and opportunities for decarbonisation of transport in Africa.
This followed the 2019 report of the IAP regional network, the European Academies' Science Advisory Council (EASAC), Decarbonisation of Transport: options and challenges, that provided policy recommendations to European Union policymakers. 
Today the IAP-NASAC workshop report, summarizing the discussions and inputs of the high-level speakers including H.E. Dagmawit Moges, Ethiopia's Minister of Transport and Logistics; Mr. Rob de Jong, Head of Mobility Unit at the United Nations Environment Programme; Brian Dean, Head of Energy Efficiency at SEforAll, Dr. Guineng Chen, Team Lead for Data and Policy Analytics at the International Transport Forum, OECD; and many others, including representatives of the African Union Commission, the World Bank, academies, universities, NGOs, and private foundations, was released in both English and French. 
The workshop focused on:
Existing policy frameworks, from global, regional and local contexts, the challenges & opportunities thereto, and the steps that need to be taken to develop and implement policies that would serve as enablers towards sustainable transport in Africa.
Trends in the financing mechanisms that are in place to support strategic and technical studies, as well as implementation of these strategies on the ground. The discussion was also expected to indicate the prospects of financing opportunities that may exist in the future to support the decarbonisation agenda in Africa.
Ongoing global and regional initiatives and best practices towards decarbonisation of transport, to draw lessons learnt from such initiatives and to identify gaps and potential areas of intervention in future initiatives, and
The issue of transport planning in the context of the decarbonisation agenda, focusing on strategic planning considerations at the regional and local levels giving due emphasis to urban, public-transport, rural to urban connectivity, and non-motorized transport considerations.
The workshop highlighted the increasing trend in transport demand, motorization and CO2 emissions in Africa, as well as a number of promising initiatives towards sustainable mobility across the Continent. It also highlighted some of the major challenges that African countries and cities are facing as they try to strike a balance between the need for access and mobility and the need for transport decarbonisation, thereby ensuring sustainability.
Sir Richard Catlow, IAP Co-President, stressed, "We must not make the mistake of focusing our attention solely on the current greatest greenhouse gas emitting economies in the world. We must take a more strategic view to identify future areas to help curb the impacts of climate change, while creating human health and economic benefits, around the world."
Professor Norbert Hounkonnou, President of NASAC, highlighted, "The academies in Africa are well-placed to contribute broad expertise to this important initiative, and their independence from governments and commercial interests will ensure a valuable contribution to the strategic policy discussions underway at local, national, regional and international levels."
Prof. Bikila Teklu Wodajo, Workshop Chair and Chief Executive Director, Addis Ababa Institute of Technology (AAiT), concluded, "There are huge opportunities for African cities and nations to chart our own paths to decarbonise our transport systems, leapfrogging old technologies. There is strong potential for electric vehicle adoption in Africa, including local assembly and other job creation opportunities that can help overcome some of the known barriers to scale-up." 
A planned follow-on study by IAP and NASAC will examine a set of focal local and national urban transport initiatives on the continent to distill lessons learned that could be applied to other cities and countries in Africa, including in the areas of electric vehicles, vehicle and fuel standards, mass and public transit and the informal transit sector, aiming to input into the 2022 United Nations Climate Change Conference (COP-27) hosted by Egypt in November 2022. 
The IAP-NASAC workshop summary report 'Decarbonisation of Transport in Africa – A Transport Planning Perspective' is available in both English and French at https://www.interacademies.org/project/decarbonization-transport-africa.
About the InterAcademy Partnership (IAP)
Under the umbrella of the InterAcademy Partnership (IAP), more than 140 national, regional and global member academies work together to support the vital role of science in seeking evidence-based solutions to the world's most challenging problems. In particular, IAP harnesses the expertise of the world's scientific, medical and engineering leaders to advance sound policies, improve public health, promote excellence in science education, and achieve other critical development goals.
IAP's four regional networks - AASSA, EASAC, IANAS and NASAC - are responsible for managing and implementing many IAP-funded projects and help make IAP's work relevant around the world. More information about IAP can be found at www.interacademies.org, on Twitter at @IAPartnership, on LinkedIn and YouTube.
About the Network of African Science Academies (NASAC)

The Network of African Science Academies (NASAC) is a network of 28 merit-based national academies in Africa. NASAC's main objective is to bring together science academies and facilitate discussions on the scientific aspects of challenges of common concern, so as to make common statements and provide science-informed advice on major issues relevant to Africa and to provide mutual support to member Academies. Additionally, NASAC also strives to create awareness on the value of science academies to social and developmental policy- or decision-making.  To this end, NASAC works with scientists to establish academies in countries where none exist. The secretariat of NASAC is based in Nairobi, Kenya. More information is available at www.nasaconline.org. 
 

Contact:

Sophia Nordt, Senior Program Assistant, IAP Policy, snordt@nas.edu, The InterAcademy Partnership 
Jackie Kado, Executive Director, NASAC, jkado@nasaconline.org 
 
IAP Senior Program Assistant