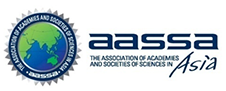 NETWORK / Regional Network
Association of Academies and Societies of Sciences in Asia (AASSA)
2012
42 Dolma-ro, Bundang-gu, Seongnam-si
AASSA (The Association of Academies and Societies of Sciences in Asia) was launched on January 1, 2012, as a consequence of the merger of AASA (The Associations of Academies of Sciences in Asia) and FASAS (The Federation of Asian Scientific Academies and Societies).
AASSA is a non-profit international organization with science and technology interests. It is made up of scientific and technological academies and science societies in Asia and Australasia. The principal objective of AASSA is to achieve a society in Asia and Australasia in which science and technology play a major role in the development of the region.
The AASSA is a forum for scientists and technologists to discuss and provide advice on issues related to science and technology, research and development, and the application of technology for socio-economic development.