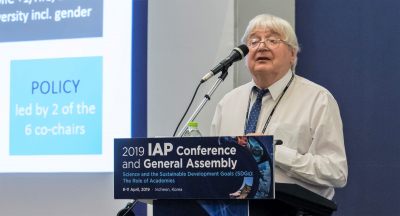 Richard Catlow joins Depei Liu as IAP Co-President
Outgoing President Volker ter Meulen appointed as Special Advisor
Richard Catlow, Vice President and Foreign Secretary of UK's Royal Society, is the new Co-President of the InterAcademy Partnership (IAP). A leading chemist who has worked for over thirty years in the field of computational and experimental studies of complex materials, Catlow is currently also Co-Chair of IAP Policy, and has recently been awarded a knighthood for his "remarkable" and "impactful" contributions to scientific research.
IAP is guided by a Steering Committee composed of the six executive committee/board Co-chairs. From these six Steering Committee members, two are selected to act as Co-Presidents. Richard Catlow (UK) will be representing high income countries (HICs) and will work alongside Depei Liu (China), who represents low and middle income countries (LMICs).
Catlow replaces Volker ter Meulen (German National Academy of Sciences, Leopoldina), who has acted as IAP Co-President since 2017 and has now completed his two terms.
"It will be an honour to follow Volker at this exciting an important time where the need for concerted advice and input from the global academy community has never been higher," said Catlow.
Ter Meulen's work had a great impact on the recent growth of IAP and its projects, including the Food and Nutrition Security and Agriculture (FNSA) project and the ongoing Climate Change and Health (CCH) project. At the request of the IAP Steering Committee, ter Meulen will be appointed as IAP Special Advisor and will continue to contribute to IAP's mission of convening and empowering the world's academies of science, engineering and medicine to work collaboratively to address issues of global, regional, and national importance.