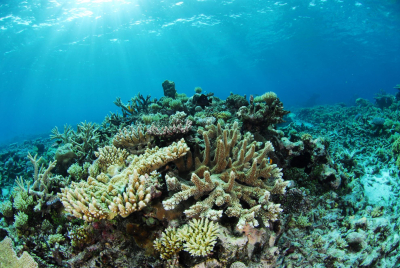 World academies call for protection of marine environments
The InterAcademy Partnership (IAP) urges world leaders to improve ocean health by stopping habitat destruction and the spread of environmental contaminants, fighting climate change and overexploitation, and adopting evidence-based policies
How to protect marine environments
The new IAP Statement on the Protection of Marine Environments, released as the world prepares to celebrate World Oceans Day (8 June) and the UN Decade of Ocean Science for Sustainable Development (2021-2030), sets out concrete actions to preserve a healthy ocean.
The InterAcademy Partnership (IAP) is a global network whose 143 member academies constitute more than 30,000 leading scientists, engineers and health professionals in over 100 countries. With this Statement, which has been formally endorsed by a majority of member academies, IAP calls on governments, NGOs and its member academies to:
Share scientific information and data, build comprehensive understanding of the ocean, and develop an international ocean knowledge database that is equitably accessible, for devising solutions and making policies and decisions.
Coordinate actions to protect and restore ocean health with expansion of research capacity development, ocean literacy and mechanisms to promote the exchange of information at the science-policy interface.
Implement inclusive protection measures for coastal and other sensitive marine habitats.
Assess sources of environmental contaminants, address their distributions, fates and impacts on ocean health, and develop means to eliminate entry of land-based contaminants into the ocean and to reduce their marine impacts.
Mitigate and adapt to the impacts of greenhouse gases and climate change on the ocean ecosystem in acidification, deoxygenation and redistribution and change of marine life, thereby avoiding failures in the livelihoods of people who depend on the ocean.
Ensure improved scientific management of capture fisheries, strengthen enforcement against illegal, unreported and unregulated (IUU) fisheries, and promote environmentally sensitive marine aquaculture.
Increase ocean literacy, encouraging the global society to understand its intricate connection to the oceans and to respect the role of the oceans in maintaining Earth's biodiversity and habitability.
Why it is important to protect the marine environment?
"The ocean, connected over approximately 71% of the Earth's surface, supports humankind. Human well-being and our economy have benefited from the ocean for oxygen to breathe, fish and seafood to eat, leisure and healing places to visit, seaways for transportation, and the many jobs associated with ocean activities," says Richard Catlow, IAP Co-President and Vice President and Foreign Secretary of the UK's Royal Society.
"Unregulated and excessive human activities are causing the deterioration of the marine environment, reducing biodiversity and threatening its ecosystem services. We have little time to nurture the ocean's resilience, remove threats and eliminate disruptions, especially because global warming has an increasing impact on ocean health," says Depei Liu, IAP Co-President and Former Vice President and Member of the Chinese Academy of Engineering.
"The world's oceans are experiencing extensive habitat destruction due to both direct impacts (e.g. coastal development) and indirect impacts (e.g. climate change, invasive species, pollution). We urge world leaders to embrace a holistic approach to the ocean, which requires universal recognition of our common interest in and dependence on the status of the ocean," says Suam Kim, Fellow of the Korean Academy of Science and Technology (KAST), who chaired the international working group who developed the statement.
Ocean infographic
Click here to download this infographic as a PDF or as a high-resolution jpeg (to download and use all our communications and outreach assets check this Trello board).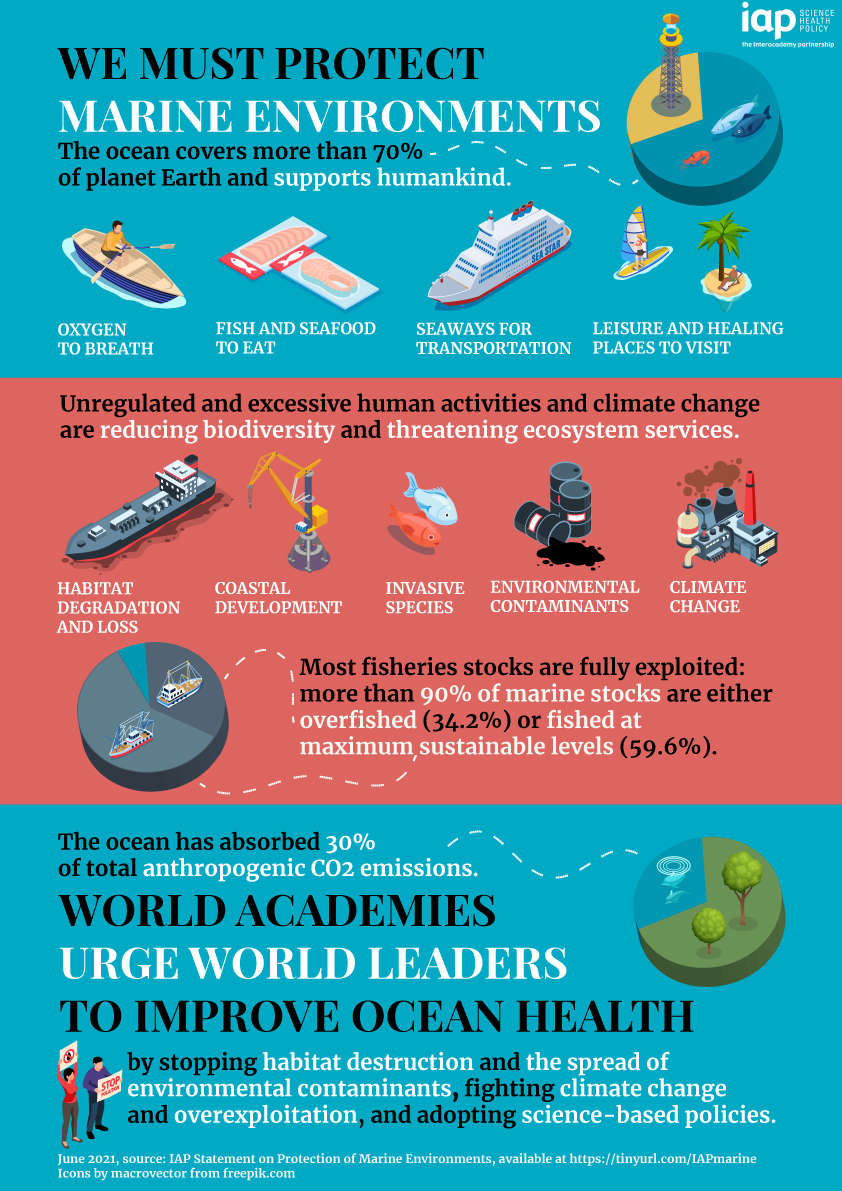 Note to editors
The full text of the IAP Statement on Protection of Marine Environments can be downloaded from  www.interacademies.org/statement/protection-marine-environments.
Working group members, academy fellows and IAP Presidents are available for interviews.
About the InterAcademy Partnership (IAP)
Under the umbrella of the InterAcademy Partnership (IAP), more than 140 national, regional and global member academies work together to support the vital role of science in seeking evidence-based solutions to the world's most challenging problems. In particular, IAP harnesses the expertise of the world's scientific, medical and engineering leaders to advance sound policies, improve public health, promote excellence in science education, and achieve other critical development goals. IAP academy members constitute more than 30,000 leading scientists, engineers and health professionals in over 100 countries.
A central focus of IAP's mission is to reach out to society and participate in discussions on critical global issues in which science plays a crucial role, and since its inception in 1993, IAP has been producing statements on issues of fundamental importance to humanity. These statements – which are released only once they have been endorsed by the majority of IAP members – are not only a reflection of the major issues that confront society but are also evidence of IAP's ongoing commitment to society.
Press contact
Giovanni Ortolani, IAP Communications Assistant
Email: gortolani@twas.org
More information about IAP can be found at www.interacademies.org, on Twitter at @IAPartnership, on LinkedIn and YouTube.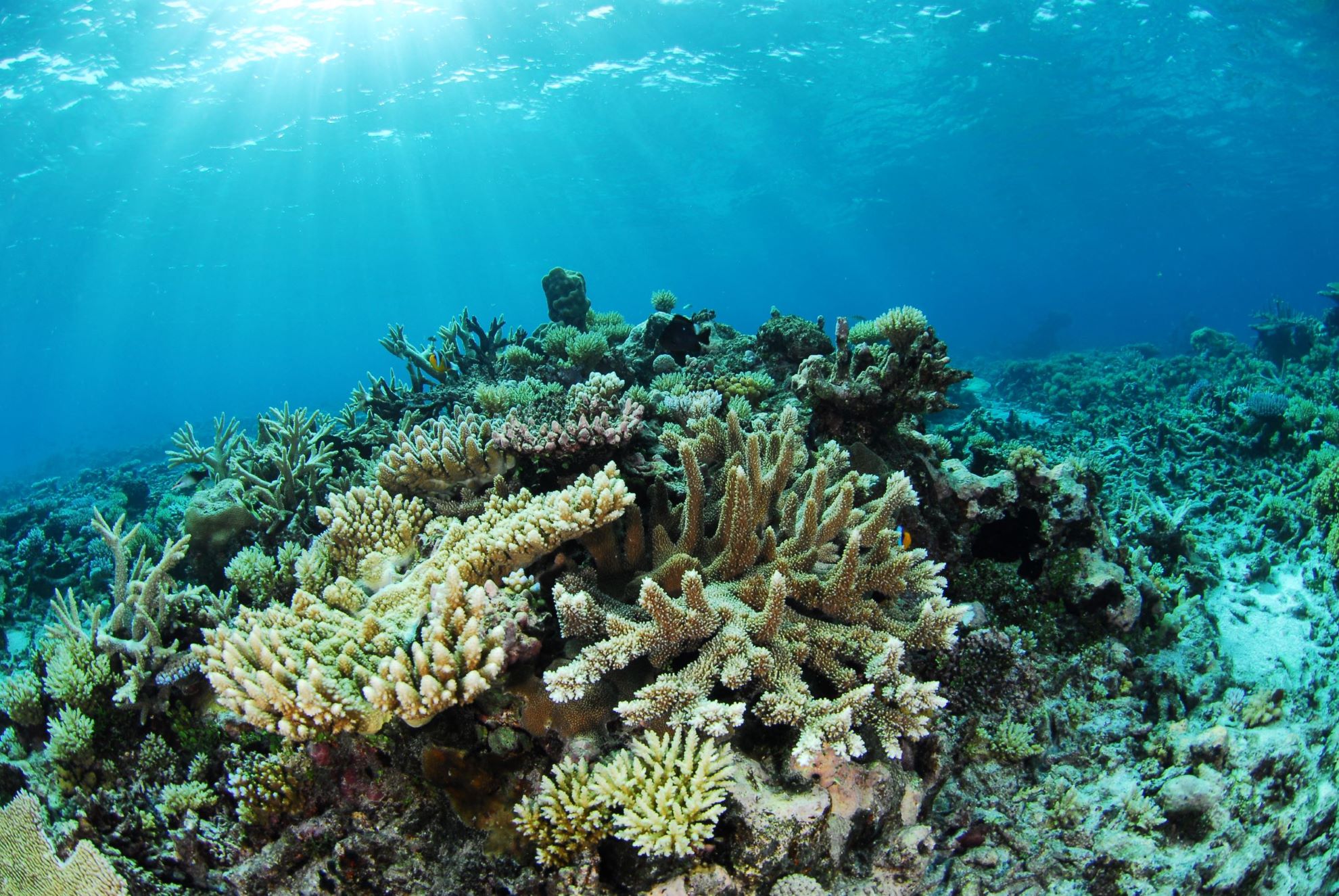 Download these social media images and share them together with our infographic to urge word leaders to improve ocean health.